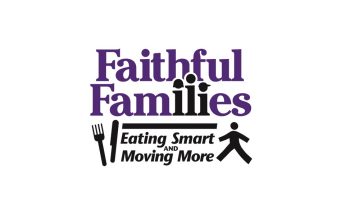 We are excited to announce the launch of our updated Faithful Families Eating Smart and Moving More curriculum in January of 2014.  We will also be holding two upcoming trainings for the program, in Winston-Salem and Greenville, NC for Extension and Health Department staff in North Carolina.
The new Faithful Families curriculum will feel very familiar, but we have added some updated nutrition content, included prompts and tips to help participants buy, shop for and prepare local produce, and we have added "media moments" to get participants engaged with Extension, EFNEP and Faithful Families on social media.  We will also be offering a Faithful Families cookbook along with the program, using the EFNEP's Eating Smart and Moving More cookbook.
For 2014, we will be evaluating this updated Faithful Families curriculum, so all agents, EFNEP staff and health department staff who would like to participate in the program should attend the training in February and commit to working with at least one faith community over the course of 2014.  This will include collecting participant surveys after each class and conducting member health assessments with the faith communities where you work.  Our goal is to make sure that this new curriculum is effective and serves our audience, and we need your help to evaluate that!
FCS agents and health department staff will need to pay a one-time $100 curriculum fee for a hard copy of the curriculum.  EFNEP staff will receive the kits as part of your regular EFNEP program delivery.  You will also get all materials on CD and DVD the day of the training.
Trainings are scheduled for:
February 11th: 9:00am – 2:30pm, Winston-Salem, NC, Forsyth County Cooperative Extension, Auditorium C (1450 Fairchild Rd, Winston-Salem, NC 27105)
February 18th 9:00am – 2:30pm, Greenville, NC, Pitt County Cooperative Extension, Auditorium,(403 Government Circle, Suite 2, Greenville, NC 27834)
You must sign up for the trainings.  Please contact Annie at amhardis@ncsu.edu for more information on signing up.
We hope to see our North Carolina health department and Extension staff in February!