Video Modules
Faithful Families provides tools to help faith communities to assess their community's assets, strengths, and needs and develop action steps for policy, systems, and environmental changes.
Policy, Systems, and Environmental Approaches in Faith-Based Settings


In partnership with University of Tennessee Extension and the Southern Regional Center of Excellence in Nutrition Education and Obesity Prevention (RNECE-South), Faithful Families was featured in a series of video modules that explores policy, systems, and environmental (PSE) approaches in faith-based settings. The modules go over faith community recruitment, support from faith leadership, assessing need, implementation, and evaluation.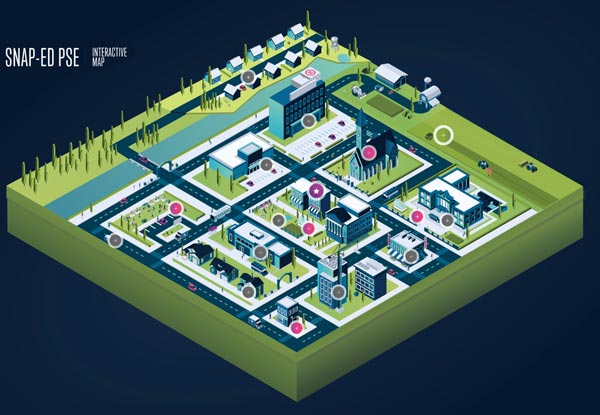 These video modules support the Obesity Prevention Interventions and Evaluation Framework in the SNAP-Ed Toolkit. They are housed on the SNAP-ED Interactive Map, which provides a blueprint of PSE approaches in the various settings where we eat, learn, live, play, shop and work.
Why Faith Based Communities?
Faith communities can create long-term sustainable changes to support healthy living in their own organization and even in the broader community.
Recruitment Efforts in Faith Based Communities
Learn about strategies to help engage faith communities, lay leaders, and faith leaders to support community-wide changes for healthy eating and physical activity.
Leadership Support and Assessing Need Within Faith Based Communities
Discover tools that can help faith communities and faith leaders assess their community's strengths, assets, and needs.
Implementing
Learn about best practices to implement policy, system, and environmental supports in faith communities.
Evaluating PSEs in a Faith Based Community
Discover tools to evaluate successes and community-wide changes in a faith community.
---
Community-Led Walk Audits


Faithful Families and Steps to Health, NC State University's SNAP-Ed program, developed a series of video modules to highlight steps to planning community-led walk audits. These videos can be utilized to assist local organizations in planning and conducting community-led walk audits to assess the physical environment, walkability, and to increase safety for those most vulnerable to COVID-19. Additionally, community partners and leaders share successes from their own experiences, demonstrating the positive impacts that walk audits can bring to communities.
Introduction, Partnership, and Need
What is a walk audit? Learn about the importance of walkable communities and why communities might want to use a walk audit as a tool for built environment change to promote health.
Planning
Learn the key steps in the planning process for community-led walk audits and become familiar with some tools, resources, and important considerations as you begin to think about as you work together with leaders, partners, and stakeholders to plan a walk audit in your community.
Implementation
This module presents an overview of the key steps to implementing a walk audit, including important tips, reminders, and things to consider to ensure a safe and successful walk audit. Additionally, learn the key components of an effective walk audit report.
Sustainability
Learn about resources, tools, and ideas to help keep up the momentum and make changes to reduce walkability barriers in communities. This module stresses the importance of identifying opportunities to share walk audit results and creating a plan to improve walkability and sustain efforts; and explores the significant impact that policy, systems, and environmental change can have on the built environment.