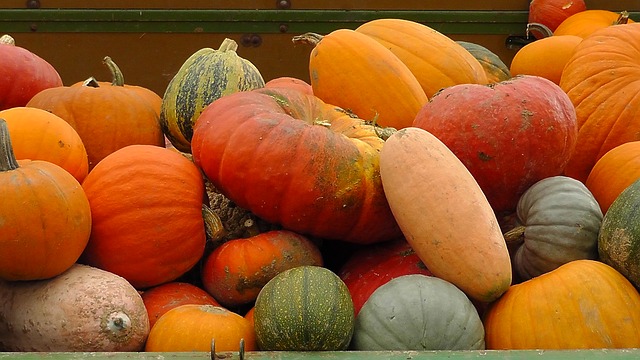 Fall is one of our favorite seasons. The air is cooler, the days feel shorter, and there's pumpkin everywhere! Pumpkins are loaded with Vitamin A, fiber, and low in calories. Whether fresh or canned pumpkin puree, it's versatility makes it a great addition to any recipe. Check out one of our favorite recipes from our friends at foodhero.org!
Ingredients
12 jumbo pasta shells (1/2 of 12 ounce package)
1 1⁄4 cups fat-free ricotta cheese
3⁄4 cup pumpkin puree
1⁄2 cup Parmesan cheese

, grated

1⁄2 teaspoon garlic powder

 or 2 cloves garlic

2 tablespoons dried basil
1⁄4 teaspoon ground sage
1⁄2 teaspoon salt
1⁄2 teaspoon pepper
1 cup pasta sauce
Directions
Cook pasta shells according to package directions. Drain, separate onto baking sheet and let cool.
In a medium bowl, stir together ricotta, pumpkin, Parmesan, and spices. Reserve 1 Tablespoon Parmesan for topping.
Preheat oven to 350 degrees. Choose a baking dish that holds all the shells in a single layer.
Spread pasta sauce in the bottom of the baking dish. Fill each shell with about 3 Tablespoons of pumpkin mixture, and place shells close together on sauce in baking dish.
Cover pan with foil and bake for 30 minutes. Remove foil, sprinkle with remaining cheese and bake for 15 minutes more.
Refrigerate leftovers within 2 hours.
Notes
---
This article was originally posted on Expanded Food and Nutrition Education Program (EFNEP) on October 14, 2015. EFNEP helps adult participants learn skills and strategies to feed their family nutritious meals on a limited budget and improve their overall health.