2020 marked the first year of the #WalkwithFF2020 Virtual Walking Challenge, which ran for four weeks from Monday, June 8 – Sunday, July 5, 2020.  The challenge was a way for people to stay connected and be physically active while staying socially distanced.  Participants reported that the challenge helped them to walk more and to continue with their physical activity after the challenge ended. 
Together, participants walked a total of 491,220 minutes!
To sign up for the Virtual Walking Challenge, you could enter as a team or individual participant.  Across the country, 22 teams participated in the challenge and a total of 322 people participated!  Way to go America for taking control of your health!!  We had a good turnout in North Carolina, as we had teams sign up from nine counties, and individuals sign up from 14 NC counties!  In addition to North Carolina, we also had representatives from Indiana, New Jersey, Kentucky, Louisiana, Nebraska, and Tennessee.
After #WalkwithFF2020, the participants were asked what they appreciated most about the challenge. Some participants enjoyed the feeling of camaraderie as they encouraged and supported each other to walk more.  Others commented about taking time out for yourself to clear your head and be mentally strong.  Many enjoyed the increase in physical activity as a result of walking more.  We're thrilled with the positive outcomes from this challenge!  Everyone seemed to enjoy being part of a team.  Want to read more about the evaluation? A short report for North Carolina is available here, and the national report is available here.
Along with the physical and emotional benefits of completing the walking challenge, there was also a competition for a free Fitbit Flex!  There were four way to win a Fitbit Flex:
1- The INDIVIDUAL with the most challenge points at the end of the challenge.
2- The TEAM with the highest average of challenge points at the end of the challenge.
3- Participants who share their Virtual Walking Challenge experience on Facebook or Twitter (3 winners).
4- Participants who share a success story about their Virtual Walking Challenge experience (2 winners).
We'd like to congratulate our winners of the free FITBIT FLEX!
Susan Thomas with Sparta Presbyterian Church in Alleghany County, NC was our individual with the most challenge points!  Susan ended the challenge with 2540 points!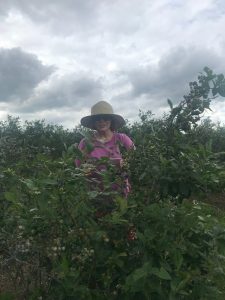 Susan commented this about her experience, "I usually walked with a friend. We would pick trails in the country and we would always stop along the way to "be still" and we would thank God for the beauty of that day. We would always listen to the birds singing praises, the wind gently blowing, sometimes we would get a light mist on our faces. These are the things that encouraged me to get up and WALK!"
The Faithful Walkers with New Beginning Church of Nazarene Pantry in Middlesex County, NJ was our team with the highest average of challenge points at the end of the challenge with 537 points!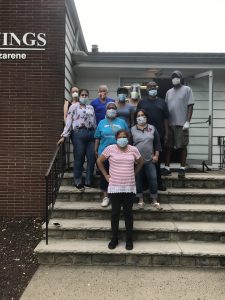 Ms. Hakh was integral is organizing the team and encouraging the team members along the way!  She set a team goal to have everyone walk 10,000 steps per day throughout the challenge, which her team accomplished with flying colors!  Ms. Hakh shared, "The challenge help(ed) us all manage our health, fitness, weight,  reduc(ing) stress, and helped (with) sleep.  I must say thank you for the weekly newsletter, it kept us motivated!"
Our three social media challenge winners are:
Regina Moseley, FCS Agent for Nash/Edgecombe Counties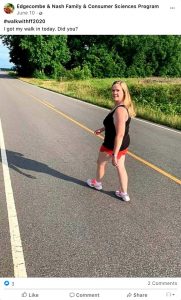 Regina shared her experience on her county pages to get county teams and individuals involved and to keep them motivated!
Andrea Munoz, Extension Program Assistant at Kentucky State University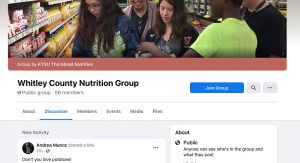 Ms. Munoz shared her experience with the Virtual Walking Challenge with the Whitley County Nutrition Group!
Kennethra Price, one of our individual participants from Nash County, NC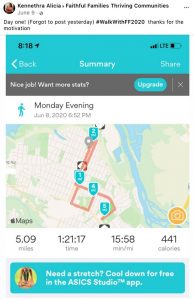 Kennethra posted about her walks, including the map of her first day's route on social media!  She also shared a success story on our blog!  About the challenge, she shared, "I connected this challenge to my faith of never giving up. With it being so hot this time of the year I was a little worried in the beginning but I knew my intended goal was not to give up. I don't have any friends that live close by so I decided to FaceTime my line sister days that I walked so that we could motivate each other to accomplish our goals.  I am now able to complete 5 mile walks which was a goal I get for myself June 2020."
Lastly, our two challenge winners who shared a success story about their Virtual Walking Challenge experience:
Ellen Cherry from St. Elmo Baptist Church in Windsor NC, Roper NC, Aulander NC and Summerville South Carolina.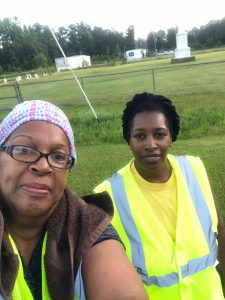 Ms. Cherry did such an amazing job with motivating her team!  Some of her efforts include sending encouraging text messages to team members, informing team members of alternative forms of walking during inclement weather, and calling her team members in the wee hours of the morning to get up to go walking!  Ms. Cherry shared that she called her walking partner every morning at 5:30, five days a week, to go walking.  When she would call, her partner would respond, "I'm not up, but I'm getting up!"
Lou Dawson with Greystone Baptist Church in Raleigh NC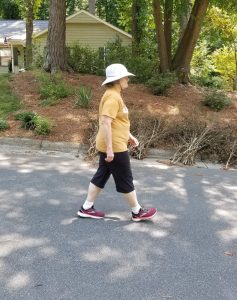 When asked about what strategies they used for participation and encouragement, Ms. Lou Dawson, shared, "Being a part of a team encouraged me to meet the challenge. Even though we could not walk together, I felt obligated to uphold my commitment."
We are so proud of ALL our participants that made a commitment to their health and completed the Faithful Families Virtual Walking Challenge!!
Please see more quotes and statistics from the Virtual Walking Challenge here