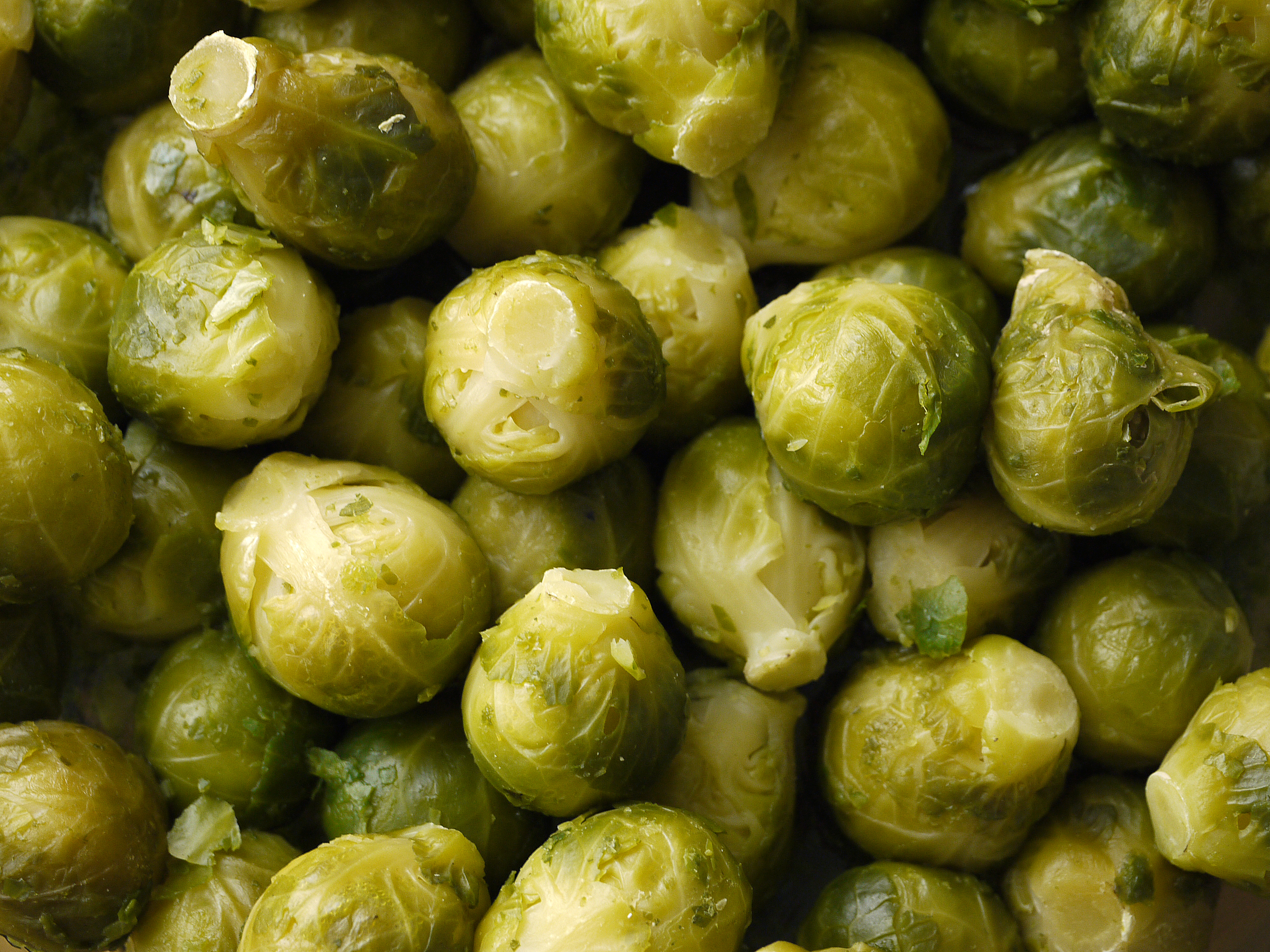 Guest Writer: Hannah Field
Thanksgiving is by far my favorite holiday of the year. It's a day to be intentional about practicing thankfulness AND to cook and share a meal with the people I love the most. When it comes to the meal, my family appreciates tradition, and there are dishes we make sure to have every year. But I have come to love it when family members bring new dishes to Thanksgiving, too. It has helped me try new foods and learn various cooking techniques.
My family's creativity with side dishes has led us to a new reality – one that my mother probably once believed was unimaginable – my brother and I now love Brussels sprouts. We eat them not only at Thanksgiving, but at all times of year. A special meal like Thanksgiving can be a really great time to get kids to try new foods.
These dishes are great for Thanksgiving, but they make for wonderful, satisfying sides or entrees for any time.
Aunt Jill's Roasted Brussels Sprouts
This dish is wonderfully easy to prep (only 10 minutes) and you will be amazed at how good they taste! If you opt for frozen, you will need about two bags. You do not need to thaw them beforehand – the oven is hot enough. If you go for fresh, you will probably only need about one stalk.
Serves 8. Cook time: 50 minutes
Ingredients:
-2 pounds fresh or frozen Brussels sprouts
-3 tablespoons olive oil
-3/4 teaspoon salt
-1/2 teaspoon black pepper, from a grinder if you have one
-3 cloves garlic, chopped finely
Instructions:
Preheat oven to 400°

Cut off the brown ends of the Brussels sprouts and pull off any yellow outer leaves.

Mix them in a bowl with the garlic, olive oil, salt and pepper.

Pour them on a sheet pan and roast for 35 to 40 minutes, until crisp on the outside and tender on the inside. Shake the pan from time to time to brown the sprouts evenly.
Mashed Butternut Squash with Rosemary
You may be able to find butternut squash already chopped and bagged at some grocery stores. Their skin is pretty hard so it can be a bit of work to chop, so it may be worth it to you to spring for this option.
Serves 8. Cook time: 30 minutes
Ingredients:
-2 tablespoons extra-virgin olive oil

-2 large butternut squashes, trimmed, peeled, seeded, and cut into 3/4-inch chunks

-1 teaspoon salt

-Black pepper to taste

-1 tablespoon rosemary, fresh or dried
Instructions:
Heat oil in a large

pot

over medium-high heat. Add squash chunks and salt. Cover, and cook, stirring occasionally, until partially tender, about 8 minutes (reduce heat if squash begins to brown).

Add 1 cup water, cover, and simmer over medium-high heat until completely tender and water has mostly evaporated, about 15 minutes.

Mash with a potato masher. Season with pepper and rosemary.
Recipe adapted from Martha Stewart Living.
Slow-Simmered Collard Greens
This recipe is in honor of my friend Tyler. His family is from Rocky Mount, NC, and they believe it just isn't Thanksgiving without collard greens. One can of diced tomatoes, drained, is just fine in place of the fresh tomatoes.
Serves 8-10. Cook time: 50 minutes
Ingredients:
-1 tablespoon olive oil
-1 tablespoon butter
-1/2 large onion, chopped
-1 teaspoon red pepper flakes
-1 clove garlic, finely chopped
-1 pound collard greens, chopped
-3 cups vegetable stock
-2 tomatoes, seeded and diced
-Salt and black pepper, to taste
Instructions:
In a large pot over medium heat, heat the oil and butter.

Saute the onions until slightly softened, about 2 minutes, then add the red pepper flakes and garlic, cook another minute. Add collard greens and cook another minute.

Add the vegetable stock, cover and bring to a simmer. Cook until greens are tender, about 40 minutes. Add tomatoes and season with salt and freshly ground black pepper.
Recipe adapted from The Food Network's Sunny Anderson
Roasted Cauliflower
As a young kid, I never ever thought I would like cauliflower. That all changed though when one day I had happened to try it roasted. My, did that change everything. Its texture lends itself wonderfully to roasting. I think this is going to be my new addition to Thanksgiving this year.
Serves 8. Cook time: 30 minutes
Ingredients:
-1 cauliflower head
-2 tablespoons olive oil
-1/4 teaspoon salt
-1/4 teaspoon pepper
-1/2 cup shredded Parmesan cheese
Instructions:
Remove outer leaves of cauliflower. Cut florets off the stem. Wash and drain.

Combine oil, salt and pepper in a large bowl. Toss the cauliflower florets in the oil mixture.

Spread cauliflower on a large rimmed baking sheet.

Roast in the oven at 450 degrees 15-20 minutes until the cauliflower starts to soften and begins to brown.

Sprinkle with cheese. Continue to roast for 5-10 minutes.
Recipe from What's Cooking? USDA Mixing Bowl. Available here.  
Hannah Field is an intern with Faithful Families.  She is a junior at NC State University, majoring in sociology and social work.