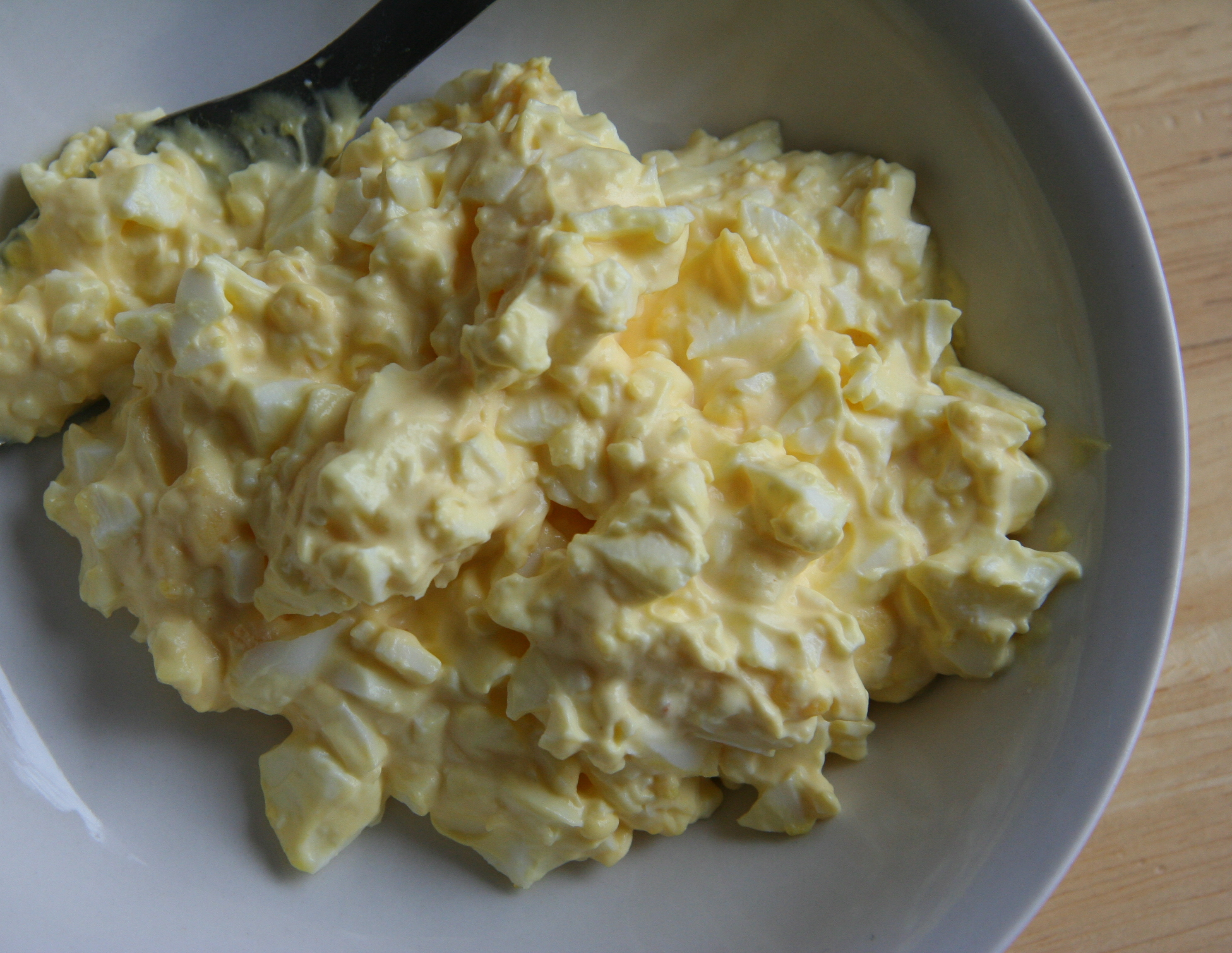 Sandwiches are quick and easy to make, but can be high in calories if you're not careful.  Substitute 2 T. fat-free yogurt for 2 T. mayonnaise on that sandwich and you save a whopping 167  calories and around 20g. of fat.  Check out these recipes below:
Open Faced Egg Salad Sandwich – Makes 4 open faced sandwiches
Ingredients
7 eggs
¼ C. low-fat plain yogurt (look for those with low sugar)
2 tsp. mustard
½ tsp. each salt and pepper
4 slices whole grain bread
For face:  Egg slices, peas, bell pepper, pickles, and grated carrot or other vegetables you may have on hand.
Directions: In a medium saucepan, cover 7 eggs with water.  Bring to a boil. Cover and remove from heat.  Let stand 10 minutes.  Place eggs in bowl under cold running water until cool.  Peel eggs.
Slice 2 eggs with a knife.  Set aside 8 of the slices for eyes.  Place remaining egg slices in a bowl; add unsliced eggs.  Mash with a fork.  Add yogurt, mustard, salt and pepper.  Stir to combine.  Cover 4 slices of bread with egg salad.
Make face using egg slices for the eyes topped with three peas each for the pupils.  Half a whole pickle or a pickle slice for the nose, a red bell pepper slice for the mouth and some grated carrot for the hair.  Use whatever you have on hand if you don't have these ingredients.  Involve your kids and let them be creative!
Tuna or Chicken Salad Roll-ups
Ingredients:
1 small crisp apple, such as Granny Smith, peeled, cored and very finely chopped
1 tsp. lemon juice
12-oz solid white tuna, packed on water OR chopped chicken
2 stalks of celery, cut into 1/4 –inch pieces
½ cup non-fat plain yogurt – look for varieties low in sugar
½ tsp. salt
¼ tsp. pepper
4 whole-grain tortillas or other rollable bread such as flatbread
6 slices cheese
4 lettuce leaves
Directions: In a medium bowl, toss the apples with the lemon juice until coated.  Add the tuna or chicken, celery, yogurt, salt and pepper and stir with a fork until mixture is combined.  Lay the tortilla on a plate and cover with cheese, followed by a lettuce leaf and top with the tuna or chicken salad.  Tightly roll the sandwich.  Use toothpicks if needed to hold the sandwich tightly closed.  Cut into halves or thirds for serving.
Note:  You can substitute any fruit for the apples such as pears, pineapple, raisins, grapes, etc.
This was originally posted on the NC EFNEP website.