March 11, 2020 was the day the World Health Organization declared COVID-19 a pandemic. It's been a long year. The Faithful Families community has come together for a virtual summit, a virtual walking challenge, and even virtual classes. You have come together for your health and the health of the community during these trying times.
So how are you doing? How have you been able to take care of yourself during this hard year?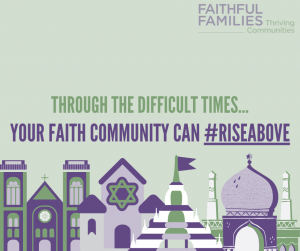 We at Faithful Families want to support you in caring for yourself. We are excited to announce a new seven-week online program focused on self-care, mindfulness, and compassion. During this FREE seven-week program, you will receive a newsletter each week, with a video, resources, and self-care practices from Dr. Portia Jackson Preston, a public health and wellness expert. Each week you'll learn about why self-care is so important, how to prioritize self-care, and practices that you can incorporate into your daily life that can support your mental health and well-being.
The seven-week program will run April 5th – May 23rd. Adults ages 18 and up can sign up for the program for FREE. Once you sign up, we will add you to the newsletter list, and you will receive a link when the program starts to a private website with program materials, which will include videos and prompts for three 15 minute practices you can try each week.
Register here by April 1st!
Want to learn more?  Check out these Frequently Asked Questions:
What is Rising Above?
Rising above is a FREE seven-week online program that encourages greater attention to self-care and well-being among faith community members.  It is being offered by Faithful Families, in partnership with Dr. Portia Jackson Preston and colleagues at California State, Fullerton.
How do I participate?
Sign up to participate at this link.  Starting April 5th, you'll receive a weekly email with a short video, list of resources, and suggested self-care practices that should take you about 15 minutes each week to complete.  The newsletter will link to a private website for Rising Above participants where all program materials will be housed.  Once you sign up, just wait for our email and the first newsletter.  Follow Faithful Families on Twitter and Facebook, where we'll share additional resources and motivation to support your self-care during the seven week period.
Who can participate?
Anyone over the age of 18 can participate in this free program.
Rising Above Evaluation
We are recruiting for a research study that is evaluating the Rising Above program, a 7 week self-care program to help you thrive in the midst of challenging times.
As part of the Rising Above program, you will watch videos on stress management and self-care, explore these techniques via a private website, and hopefully practice these techniques in your own life each week for 7 weeks total. You will also complete surveys before and after the Rising Above program  (three surveys in total) about your own stress and self-care practices.
You can participate in the Rising Above program without participating in the research study. If you choose to participate in the research, we will ask for your permission to be able to access the pre- and post-program surveys that you will complete as part of the Rising Above program for research purposes so that we can figure out what's working about the Rising Above program and what could be better. Some of those who participate in the research will also be asked to complete an audio-recorded, remote interview where you'll be asked to reflect on your experiences in the Rising Above program. The interview would take 45 minutes of your time.
Participating in the research study is strictly voluntary and is neither an expectation nor requirement to participate in the Rising Above program. Your choice to participate or not in the research will not affect anything about your Rising Above enrollment or participation. You can also choose to stop participating in the research at any time for any reason.
There are minimal risks associated with your participation in this research and no direct benefits for you, though the information that you share with the research team could help other people like you.
If you would like to participate in this research, please click here to complete the online consent form here.
If you have any questions about the research, please contact the principal investigator, Dr. Annie Hardison-Moody, at amhardis@ncsu.edu and 919-515-8478. Please refer to study number 23775 when contacting anyone about this study.