#WalkWithFF2021
The second annual Virtual Faithful Families Walking Challenge is now officially in the books!  July 5th marked the beginning of a four week Virtual Walking Challenge where individuals from across the country joined together to better their health!  This year we turned our focus towards reconnection.  During these four weeks, participants were  challenged to increase how much they walked from week to week and to try out new ways to connect with themselves, with nature, with their community and with hope.  I think we can all agree that this year has been HARD and a little reconnecting– whether it be with nature, community, health, or ourselves– was a breath of fresh air!!
We were thrilled that we had 84 individuals and 16 teams participate in the challenge this year!  Way to go for taking steps to a healthier YOU!!  The COVID-19 pandemic has been a very lonely and soul-searching time for many individuals around the world.  It was encouraging to hear participants report that the walking challenge helped to decrease loneliness while increasing social connections, life satisfaction, and family connections.  A noted outcome of the virtual challenge was that it encouraged participants to engage in similar activities in their day-to-day routine.  Participants also reported that their physical activity increased through the challenge and they were motivated to continue to be active after the challenge.  The most important benefit that was noted among participants, however, was an improved feeling about their general health!
The majority of the Walking Challenge participants were female with an average age of 53 years-old.  The age ranged from the youngest participant at 26 years-old to our oldest participant at 73 years-old!  It's exciting to see such a wide range of age participation in such a healthy and lifelong activity!
This pandemic has also encouraged us all to be a little more creative; although this was a Virtual Walking Challenge, many teams attempted to stay connected through socially distant walking events, newsletters, and even through texting.  Regina Moseley, a team leader from Nash and Edgecombe County, shared the following experience.  "I really enjoyed the article you all had on connecting with nature while walking. I took this opportunity to showcase the arboretum at our Nash County Extension office through a video. As I walked this particular day I stopped to take pictures throughout the arboretum and after my walk I was able to put the pictures into a short video to advocate for utilizing our arboretum as a place to walk."  What an awesome and creative way to engage and motivate others to walk!  Take a peek at Regina's video below!
There were so many successes throughout the four weeks.  Bibi Hakh from New Beginning church of the Nazarene food pantry shared, "A few of us work at logistic centers where walking is most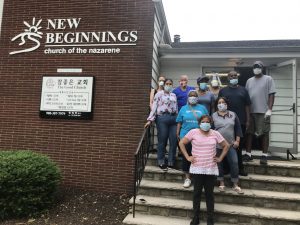 of our daily task, we also organized and went on hiking trails.  The challenge helped us all manage our health, fitness, weight, reduce stress, and also help with sleeping.  [The Walking Challenge] was great and positive."  Regina Moseley further shared, "Through this challenge I was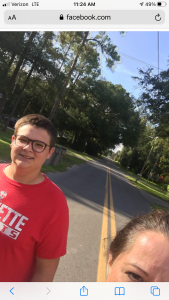 able to get not only my family out walking and working on their physical and mental health but I was able to assist many friends, coworkers, and community members with improving their physical and mental health. I decided to post my lunch time walk results on social media. Doing this I was able to help get other people moving. I even had one person tell me they were able to get their family out walking together and were able to get in some much needed family time. I even noticed several coworkers were now bringing their walking shoes to work and would walk at lunch or on breaks."  Beverley Fountain, Success Stories Submission Winner shared, "This challenge helped me get outside and walk.  I discovered that if I ask my family to walk, they will…"  We're so proud of all those who participated!  We hope that these successes will continue as you strive to make healthy choices and incorporate walking into your daily routine!
… and yes!  There were prizes!!  There were four ways to win a pair of Volantis True Wireless earbuds.
The INDIVIDUAL with the most challenge points at the end of the challenge.
The TEAM with the highest average of challenge points at the end of the challenge.
Participants who share their Virtual Walking Challenge experience on Facebook or Twitter will be entered into a lottery to win a pair of Ear Buds. TWO WINNERS will be selected.
and finally, participants who share their Virtual Walking Challenge experience in our private Facebook group will be entered into a lottery to win a pair of Ear Buds.
THE WINNERS OF THE 2021 FAITHFUL FAMILIES VIRTUAL WALKING CHALLENGE ARE:
Challenge Points Individual Winner
Kathy L Starnes from Granite Falls, NC
Challenge Points Team Winner
Bibi Hakh from Edison, NJ
Public Social Media Posts Winners
Eddie (Donna) Coomes and Eleanor Kasey
Private FB Posts Winner
Regina Moseley from Whitakers, NC
Success Stories Submission Winner
Beverley Fountain from Mayo, Florida
We know these successes did not happen without struggle and impressive dedication.  Thank you ALL for your participation and HARD WORK!!
Find more reported outcomes of the Virtual Walking Challenge here.